Game week 14 concluded today as Yewhalashet Solomon was the hero for Wolkite Ketema while Mechal and Ethiopia Bunna shared points in what was an intriguing matchup.
In what was a very competitive six goal thriller 4pm kickoff Mechal and Ethiopia Bunna split points.
The match which was very lively and an intriguing one for the neutrals saw match momentum swinging here their for the entire 90 minutes.
Israel Eshetu gave Mechal the early lead in the 21st minute, Ramkel James who is playing his maiden campaign in the top flight scored his first ever goal in the premier league levelled matters for Ethiopia Bunna in the 41st. But Israel Eshetu once again put Mechal ahead in the added minutes of the first half to give his side a deserved lead going into the second half.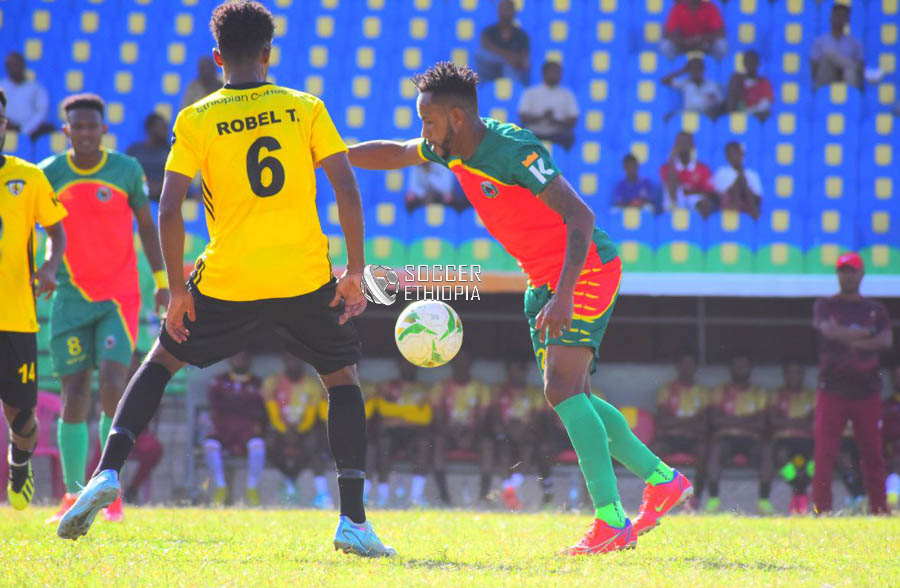 As the second half resumed MohammedNur Nasser restored parity for Ethiopia Bunna minutes after the restart, It was all Ethiopia Bunna attacking from their onwards and in the 56th minute Mesfin Tafesse put Ethiopia Bunna ahead. Once Ethiopia Bunna took the lead Mechal reclaim the control of the game and started to knock on Bunna's goal for the equalizer and eventually snatch one in the 77th minute through Bereket Desta.
Following the conclusion of the entertaining match Mechal remained 11th with 17 points while Ethiopia Bunna dropped into 8th spot with 19 points.
In the late kickoff Wolkite Ketema beat Wolaita Dicha to claim all the three points after five failed attempts.
The game was scheduled for 7 pm but the kickoff was pushed for several minutes as Wolkite Ketema showed up in the away kit which resembles Wolaita Dicha's kit after they presented their home kit in the prematch meeting.
Yehwalashet Solomon was the hero for Wolkite as his second strike of the campaign in the 12th minute separated both sides after the final whitsel lifting his side to 5th in the log with 20 points, while Wolaita Dicha dropped to 9th spot with 19 points.